Head on over to the Cloudera blog to see my post about using MapReduce and Graph Theory to solve a Boggle roll.  This will give you all of the explanation and code you need to try things out.
Read More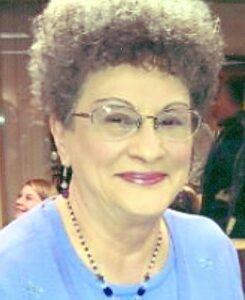 Mary Alice Berg was my grandma and she died peacefully on January 7, 2013 at the ripe old age of 76.  She had a long bout with renal cancer that spread to other organs.  The daughter of an Irish orphan mother and a German immigrant father, she was born, lived and died in the state of Montana.
She was a Jehovah's Witness and they don't believe in eulogizing a person after they die.  I'm going to give her the only thing I have left to give her, a proper eulogy.
One time, she bought my brother and I a pair of sunglasses.  I think I was 9 or so.  It was the 80's and they were ridiculous sunglasses with leather on them.  We went to the park where both of us promptly lost our new sunglasses.  She wasn't a rich woman and I don't remember her buying us tons of stuff.  I still have a lot of good memories of time spent with her.  My memories are of the good times with her, not the things.
Cooking came naturally for her.  There are a few dishes I wish I could get one last time.  Her specialty was old-fashioned hamburgers, fries and shakes, all made from scratch.  If we were really lucky, she would make us this dinner.  The closest I've had to her homemade fries are In-n-Out's fries.  It was the meal straight out 1950's Americana and it tasted spectacular.
I'll never forget the time I rented a limo for her.  She had come to Reno to visit me from Sacramento where she was staying with my uncle.  To save money, she took the Greyhound bus.  As surprise for her trip home, I rented a limo to take her all the way back to Sacramento.  I never asked her if she'd been in a limo before.  By her smile, I could tell that she hadn't.
She took early retirement and used that time doing something she loved.  After that, she volunteered for what Witnesses call regular pioneering.  That means she spent 90 hours a month preaching or volunteering.  Personally, I don't agree with how she spent her time, but she spent her doing something she loved.  Our lives go by one day at a time and we have one shot at them.
Not everyone spends their golden years volunteering.  Seeing her not just spend that time, but retire early to spend more time was inspiring.  I'd like to think some of that altruism rubbed off on me and is reflected in my volunteer work.
My grandma loved old movies.  She would tape all of them and had several stacks of old movies that she recorded on the VCR.  She was AMC's target demographic way back when it started.  It was funny that she mastered her VCR in a time where no one could.  She needed to record those movies at a certain time and learned to program her VCR.  Some of my fondest memories are of play cards (usually Gin Rummy or Pinochle) and watching old movies.
She also loved Wheel of Fortune and she was pretty good at it.  Usually, she would finish the puzzle well before the contestants.  It perplexed her that they couldn't get better contestants on the show.  I didn't have the heart to tell her that most contestants on game shows are selected for their on air charisma, not their intellectual abilities.
Read More
I'll be speaking at the Big Data Congress in St. John, New Brunswick Canada.  The session's theme is the software that powers Big Data.  I'll be telling the Million Monkeys stories and answering questions.  See you there!
Read More
Advanced NFL Stats just released the play by play of the 2002 season on.
I some quick analysis of the data using Hive and MapReduce and decided to look at incomplete passes.  The code is here on my GitHub account.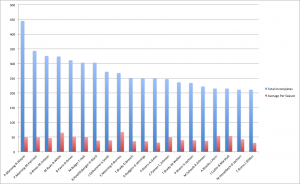 Update: Added in 2010 data.
Read More
I have written two articles published in Pragmatic Magazine to help with your move to The Cloud.  The first article discusses the politics of moving to The Cloud in your company.  The second article gives some insights in to how The Cloud can save you money.
Read More
You might have heard about my screencast (sample video) that was published by Pragmatic Programmers.  Before I started the project, I tried to look around to see if anyone had blogged about their experiences and I couldn't find one.  The closest posts I could find were about writing a book.
These are my thoughts and experiences having written, created the slides, and done the voice-over.  I'm hoping that this gives another potential screencaster more information before they embark on their journey.
The Process
Doing a screencast is more like writing a novella, a custom graphic per slide, and doing the audiobook for the novella all at once.  This project has six 30-minute episodes.  I started it in February 2012 and it was published on November 7, 2012.  It was quite a bit of work to bite off.
Creating an episode started with identifying the general topic and technologies I wanted to cover.   From there, I created the slides for the episode.  Most slides have custom art that I created using Inkscape.  Getting the right artwork for each slide took a lot of time.  In total, there are 225 slides.
Once the slides were done, I wrote the manuscript.  It was a very different mindset than creating the artwork.  For the artwork, I was trying to communicate visually.  For the manual, I was communicating verbally.  I found that they are different enough communication mediums that I tried to separate the two tasks out in to their own time slots.  Doing both tasks at the same time just didn't work well.
Writing each episode required a significant time investment.  I faced the same writer's block when trying to write certain sections.  In total, the six episodes have 28,306 words in them.  The manuscript was about 10,000 words short of being considered for a novel.  Technical book word counts seem to vary quite a bit.  I've seen some with 90,000 words and some with 40,000 words.
Finally, I did the voice-over.  This was another task that didn't mix with creating artwork or writing.  I had to make sure that I was just doing voice-over and nothing else.  Creating a good read is surprisingly difficult.  I thought it would be closer to my live speaking and it wasn't.  I had a greater fixation on creating the perfect take and a single flub or mess up made me stop the take.  This isn't something you can do live.  Doing takes like this also inhibited the flow you can get into while doing a live presentation.  There was no room for adlibbing or variations; I had to stick to the manuscript.
Delivering a manuscript well is difficult too.  You are basically reading the words you wrote at some point in the past.  Simply reading the words isn't good enough when doing a screencast.  You need to give more feeling and intonation to the material.  With a live presentation, the audience can see you and watch your facial expression.  On a screencast, you don't have the luxury of your facial expressions and your voice needs to bring that.
My weapons of choice were the Blue Yeti and Screenflow.  I highly recommend the Blue Yeti for the screencasts.  It did an incredible job filtering out some of the background noise that would have ruined a take.  There were times when a leaf blower or pigeon were making noise while doing a take and you can't hear a thing.  The Blue Yeti allowed me to keep working when I thought I would have to stop due to background noise.  Screenflow worked well; although their tech support leaves quite a bit to be desired.
Author, Vegetable or Mineral?
I'm faced with an unexpected dilemma now.  What do I call myself after this project?  Am I an author, a writer, a voice-over artist, or a graphic artist now?  I had this conversation with my editor, Jared Richardson.  When I tell people what I've done, I have a difficult time telling non-technical people what a screencast is.  If I had written a book, I could easily tell people I wrote a book.  If I had created a movie, I could say I'm a Writer, a Producer or a Director.  In some ways, a screencast is a book, movie and art.  It's really this weird hybrid that doesn't fit well in to a single word.  Jared and I finally settled on Screencast Author.  However, this still has the problem of explaining what a screencast is.
Jesse The Salesperson
For the first time in my life, I have a product that I own and directly benefit from.  I've been a professional Software Engineer for many years and created a lot of products, but I never owned any of them.  A sale or lack of sale never directly benefited or hurt me.  Now, I have this thing that I can sell and promote that I get royalties on.  A sale directly benefits me and promoting the project directly benefits me.  Better yet, I'm making money without having to sit in front of a computer coding.  It's like having your own small business without a lot of the associated costs and problems.
Would I Do It Again?
I think the desire to create another screencast is the best metric for success.  The answer, so far, is yes I would create another one.  I would do some things different, of course.
My editor, Jared, said that the best business card is a book or screencast.  Even early on in my journey, I've seen that this is true.  Having content at this level really puts you in a different category.  Although I'm early on in this phase of my career, my name appears in a list of people who are well on in the teaching phases of their careers.  It's really an honor to have your work appear in a list alongside other luminary works.
Conclusion
Doing a screencast is really about having some unrelated, inter-disciplinary skills.  You need to be able to write well, draw/layout well, and speak/voice-over well.  I recommend giving it a try because you will learn so much.  I really recommend this route to anyone trying to distinguish themselves.
Thanks to my editor, Jared Richardson.
Read More